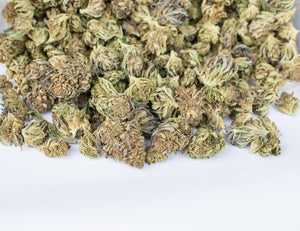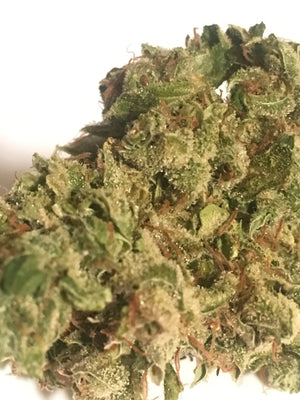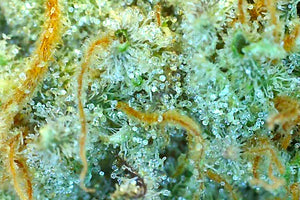 Medical marijuana patients choose Wedding Cake to help relieve symptoms associated with pain, insomnia and appetite loss.It's a potent indica-hybrid strain made by crossing Chery Pie with Girl Scout Cookies strains.
Frosty to the touch, Wedding Cake smokeable hemp flower is the perfect daytime strain to help you get your day going!
Wedding Cake provides relaxing and euphoric effects that calm the body and mind. This strain features a rich and tangy flavor profile with undertones of earthy pepper. 
Appearance: These frosty buds drip with trichomes! Wedding Cake CBG has so many little orange hairs, you might want to grab a comb! The buds are so light and fluffy that they break down easily by hand.
Nose: With a deep earthy nose featuring tones of pine and driftwood, opening the bag will feel like you've been whisked away to a dreamy, ancient forest.
Taste: Our Wedding Cake CBD hemp flower has a bit of a hotter smoke than our other smoke strains. The taste is very earthy, almost as if you were taking a bite out of a block of wood!
Effects: Wedding Cake not only has calming effects, but it comes with the benefits of CBG too!
Indica

21.7% Total CBD

Top Shelf Oregon Grown CBD Hemp Flower
Hand Trimmed Buds
Lab Tested for Purity and Compliance
50 State Legal
Federal Farm Bill Compliant - Less Than 0.3% Delta-9 THC
This strain placed 3rd in the High Times Hemp Cup Awards 2021.
Superior genetics and breeding produce buds that are 20.5% CBD but still conform to the requirements of the US Farm Bill of 2018 with less than 0.3% Delta-9 THC.

Grown by "Farm 13", one of the most respected Organic Hemp Farmers in our network of licensed Growers, Processors and Handlers.Wedding Cake has soared in popularity over the years and was named Leafly Strain of the Year in 2019. Fun fact: In Canada, this strain is known as Pink Cookies.
Free Shipping
Orders over $100 get free shipping. Order today.
Local pick-up (Central New Jersey) and delivery is available by appointment.