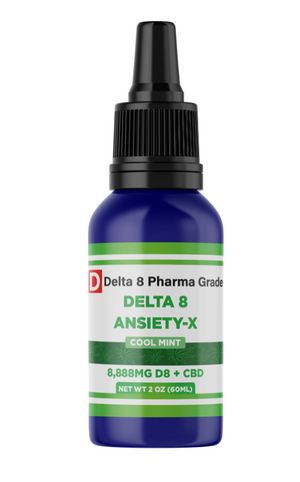 This tincture is for people suffering from anxiety and pain. Taken sublingually (under the tongue), it delivers hours of relief. Packs 8,888mg of stress-busting  cannabinoids.
Each dose contains  50mg CBD and 25mg Delta 8 THC.

This is a Sativa-Indica Hybrid Terpene blend.




Serving Size: 1/2 dropper (1ml) as needed.

Total ∆8THC Content: 3,000mg




∆8THC Content Per Serving: 25mg




Total CBD Content: 5,888mg




Total CBD Per Serving: 50mg



Doses Per Bottle: 60 (Two ounce bottle)


Ingredients: CBD Distillate, Delta 8 Distillate, Hemp Oil, Terpenes

May also be used in edibles.
Free Shipping
Orders over $100 get free shipping. Order today.
Local pick-up (Central New Jersey) and delivery is available by appointment.