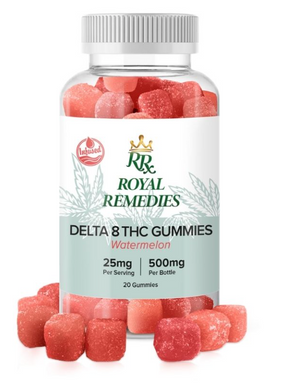 HOT HOT HOT!
25 mg Delta-8 THC per piece


20 gummies per bottle




500 mg THC per bottle 
Royal Remedies 25mg Delta 8 THC gummies deliver a potent one-of-a-kind uplifting and motivating feel, with a calming body sensation. 
These Delta-8 THC Gummies are as potent as they are delicious. 

These are one of the most popular Delta-8 THC edibles we have ever carried.

DO NOT DRIVE OR OPERATE ANY MACHINERY WHILE USING THIS PRODUCT.  Do not use if pregnant, nursing, or if you have any diagnosed or undiagnosed health conditions. Must be 21 years or older to purchase or use. Must be legal in your state or territory to purchase or use.

Type: Broad-spectrum ∆8 THC oil with natural terpenes
Amount of Extract: 500 mg
∆8THC Content: Testing at 95%+ Δ8THC
Extraction Material: Hemp Derived
∆9THC Content: None detected
Natural Terpenes: Yes

What is Delta 8 THC?
Delta 8 THC is an isomer of CBD and another cannabinoid found in hemp and hemp extracts. While Δ8THC and Δ9THC have similar names, they are distinctly different compounds with with similar characteristics, and there are clear-cut reasons why Δ8THC was made fully federally legal by H.R. 2: The Agricultural Improvement Act of 2018 and delta 9 THC was limited to a maximum content of 0.3%.

Why we love Royal Remedies THC Gummies (and you will too)

Why choose these gummies over other edibles or smokables?
Many people choose THC gummies for the flavor, ease of use, and the ability to consume cannabis in a discreet manner.

The bottle these come in can fit in your pocket or your purse so you can take a gummy pretty much anywhere you please, without the need of smoking or vaping marijuana.

Additionally, they come in a convenient 25mg dose so it's up to you whether you decide to take half, one, two, or more gummies for the effects you want!

We personally use and recommend Royal Remedies products!

At Hammsfarm.com we are committed to serving only top quality Delta 8 Pharma Grade products for sale online, which is why we proudly offer Royal Remedies gummies.  
Ingredients: Water, pectin, sugar, sodium citrate, corn syrup, flavoring (based on flavor chosen), sunflower oil, Delta-8 distillate, sodium acid sulfate, citric acid, natural and artificial coloring.
Free Shipping
Orders over $100 get free shipping. Order today.
Local pick-up (Central New Jersey) and delivery is available by appointment.